The Working Group formed the core guiding voice for Hunts Point Forward. It included 20 local community leaders, such as Hunts Point community groups, business owners, and residents that have been involved in Hunts Points for decades. They partnered with the project team to develop a guiding vision that shaped both the engagement process, the resulting recommendations, and pathways to implementation.
Meet the Working Group
Bronx Community Board 2 - Bronx Community Board 2 (CB 2) serves Hunts Point, Longwood, and parts of Morrisania. The Board has been a major partner to planning efforts throughout the district, including the 2004 Hunts Point Vision Plan.
Banana Kelly Community Improvement Association - Banana Kelly Community Improvement Association (Banana Kelly) offers a wide variety of services such as access to affordable housing, community organizing, rental assistance, youth engagement, teaching English as a second language, and more.
Casita Maria Center for Arts & Education - Casita Maria was the first charitable organization in New York City dedicated to serving the city's Latino population. The organization seeks to support and empower their community through experiences and programs that focus on culture, art, and education.
F&F Supply - F&F Supply (F&F) is a fifth-generation family business in Hunts Point.
Greater Hunts Point EDC - The Greater Hunts Point EDC (GHPEDC) works to improve the quality of life for businesses and residents in Hunts Point and adjacent neighborhoods through advocacy, technical assistance, and training.
GrowNYC - GrowNYC is an environmental organization dedicated to helping improve New Yorkers' quality of life, currently undertaking the construction of a 60,000-square-foot cold-storage facility in Hunts Point that will improve access to fresh affordable food in Hunts Point and other low-income communities throughout the city.
HOPE Program - HOPE supports the ongoing and diverse needs of impoverished New Yorkers. HOPE's green jobs workforce development program prepares individuals for careers in green infrastructure through a combination of classroom learning, hands-on experiences, and pursuit of industry-approved certificates.
Hunts Point Alliance for Children - The Hunts Point Alliance for Children (HPAC) helps parents gain stability, while implementing a "community-to-career" approach for their children through a multigenerational approach to foster pathways out of poverty for Hunts Point youth.
The Hunts Point Cooperative Market - The Hunts Point Cooperative Market includes over 50 merchants who supply meat and meat products to the five boroughs, region, and nation and plays an important role in the local community.
Hunts Point Produce Market - The Hunts Point Produce Market occupies over one million square feet and is home to over 30 merchants, making it the largest wholesale produce market in the country.
Il Forno Bakery - Il Forno Bakery is a wholesale, family-owned bakery that hires most of its employees from the surrounding Hunts Point community to produce its handmade European-style breads. It is anticipated that Il Forno will open a retail location in The Peninsula, a development on the site of the former Spofford Juvenile Detention Facility.
Jetro/ Restaurant Depot - Both Jetro and Restaurant Depot serve small businesses through their cash-and-carry model which allows businesses of all sizes to pick up the products they need with no order minimums.
The Krasdale Group - The Krasdale Group supplies supermarkets throughout the Northeast and services over 2,500 independently owned supermarkets.
La Peninsula Head Start - La Peninsula is a community-based organization that offers childcare and early childhood education to vulnerable children in the South Bronx.
NSHOPP - Neighborhood Self Help by Older Persons Project (NSHOPP) is a Hunts Point-based nonprofit organization that serves over 10,000 older adults, caregivers, and other Bronx residents annually.
Omni New York LLC - Omni New York LLC (Omni) is a real estate developer founded in 2004 working to provide affordable housing to historically underserved communities.
THE POINT CDC - THE POINT CDC has been serving the Hunts Point community for over 25 years, prioritizing community involvement in its work to drive investment into Hunts Point.
Real Life Church - Real Life Church is an Assemblies of God church led by Pastors Reggie and Ibelsa Stutzman. In 2017, Pastors Reggie and Ibelsa also founded The Prodigal Center, a nonprofit food pantry and provider of gently used clothing that serves as an outreach extension of Real Life.
Rocking the Boat - Rocking the Boat is a nonprofit science education organization that serves young people through hands-on experiences building and rowing wooden boats and through sailing and environmental restoration of the Bronx River.
Teamsters Local 202 - Teamsters Local 202 represents 4,500 workers primarily at the Hunts Point Cooperative Market, but also within other industries across the New York metropolitan area.
Urban Health Plan - Urban Health Plan (UHP) is a member organization of HPLCC and a federally qualified community health center operating 12 health centers across New York City, one mental health center, 12 health centers in schools, and an additional three part-time clinics.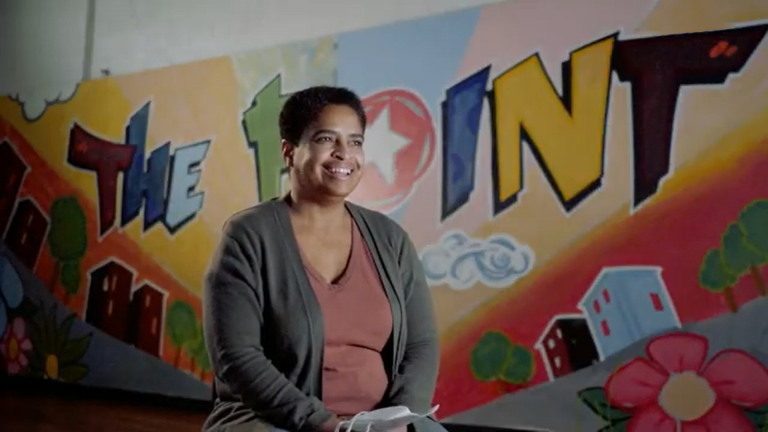 For questions or more information, please contact the Hunts Point Forward team.